Your used IT equipment has value and we take this seriously. You will therefore always experience high professional expertise and etiquette, when you are doing business with Refurb. Not least in the phase of pricing, where full transparency and thoroughness is a virtue – and you guaranty for getting the full value.
The art of valuation
A number of factors are at play, when we are valuating your used IT. First and foremost, the specifications, type of model and the condition of the units is very important knowledge we need to be able make the valuation.
To get the most presice picture of the value of your equipment as possible, we need to know these factors. Send us all the possible information you have, either from a list of specifications or from an asset management system.
You can also choose to let us take care of it, by using our facilities. With help from professional diagnostic programs, we can carry out a full inspection of all units, a hereby give a full report of number of units, condition, specifications, and price on the whole batch.
Are you having trouble in finding the right solution for you company? We will gladly consult you. Call us at (+45) 7020 3647 or by mail purchasing@refurb.eu.
---
Responsibilities and opportunities with used IT
There comes a responsibility with changing your IT. A responsibility for data security and the environment so the used devices do not end up in the wrong place or in the wrong hands. There also follows an economic responsibility. Your used IT is value, even though you do not need it anymore.
We have 12 years of experience in pricing and selling used IT and we handle procurement of units from large firms and public institutions. We know how the used IT can help financing the new equipment, and thereby also when it is the right time to change it. Include us in the process before you place a purchase on the new equipment. It can prove to be a very good opportunity to create value for your used IT.
It's not all about the price
A number of factors are at play, when we are valuating your used IT. First and foremost the specifications, type of model and the condition of the units is necessary knowledge to be able to make the valuation of the batch. But it is also important, that you consider the importance of logistics, security, environment and model for pricing.
We offer two types of pricing. What the best solution for you is, depends on the unit's specifications, condition, especially the placement of risk.
Fixed price per unit no matter the condition
If you choose to get a fixed price per unit, Refurb takes the risk of the variation of the units' condition, which of course will show in the price. This is a good model if you chose to have a simple and foreseeable structure of you IT budget.
Price based on condition
Here you get an offer based on valuation of each unit. If you know your equipment well, this will typically be the most beneficial solution.
The value of used IT is usually the highest right after you stop using it. Make a good deal before the equipment ends up in a big and unmanageable pile in the basement! (Depending on the type and specifications).
Are your employees' computers and smartphones matured, and ready to be changed? Then it is now to draw some benefits from it. Contact us to get a valuation.
We are standing by at (+45) 7020 3647.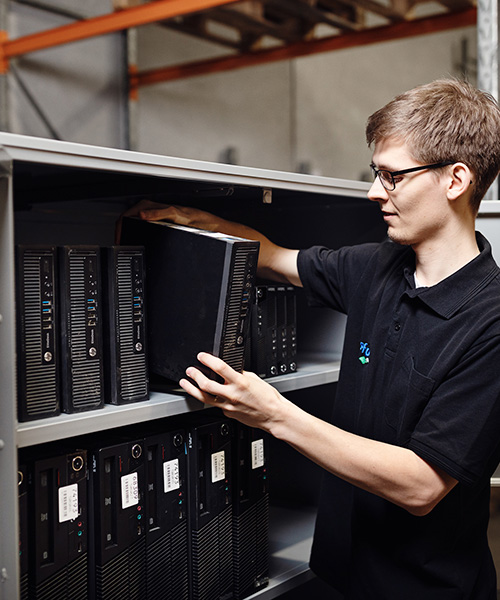 Learn more about our focus areas